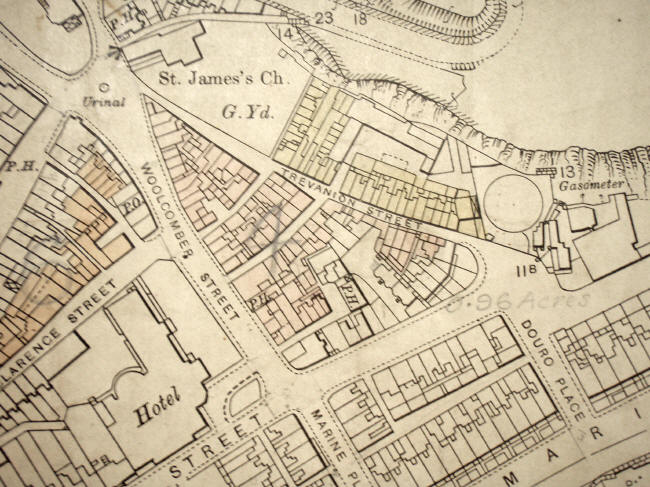 (map courtesy of Dover Public Library)
The map above is a section from a plan drawn up when the Council was preparing compulsory purchase orders on the properties shaded in pink and yellow. It shows the area covered by the pictures on this section of the site. Almost the only remaining buildings on this map are the church (a ruin for 60 years), the adjoining public house, and a short stretch of houses on the north west side of St. James's Street.
The St James's area was extensively damaged in the 2 World Wars and has never been re-developed. Most of the area has been cleared in the intervening years. Plans are now in place to develop the whole area, with the major part of it being taken up by a supermarket and car park.
These pages contain pictures and information about the area when it was a thriving community in the centre of the town. They are linked to maps showing the approximate viewpoint of each picture and include the Church, Woolcomber Street, Trevanion Street, Woolcomber Lane, Trevanion Lane, Trevanion Court, Marine Cottages and Clarence Cottages.
The information is taken from Bavington Jones (1907); old pictures courtesy of Ted Jones. The Calendar of Events is taken from Welby (1976)
---