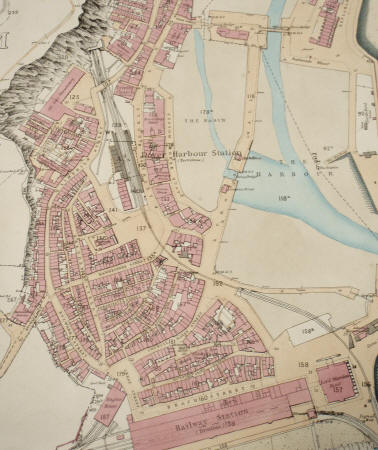 The Pier District is the area around the Western Docks, once densely populated with many small streets, lanes and squares.

This area, from Snar Gate to Archcliffe Point, was a tidal beach in the 14th century. After Henry VIII built a pier at the western end of the beach to provide some shelter for shipping, the area began to silt up and, over the years, a large amount of land was reclaimed from the sea, so that, by the end of the Tudor period, "The Pier" was a habitable area.

The map (left) shows the area in the late 19th century, before the two railway lines were joined and before the shells and bombs of the Second World War took their toll.

Amongst the houses there were many hotels, public houses and beer-houses. A description of a "pub crawl" round the district at the turn of the century can be found here.

Much of the area survived until the 1960s, when large-scale slum clearance saw the rest of the housing demolished. The closure of the Marine Station and the demise of the Train Ferry Service saw the removal of the railway lines around the Admiralty Pier.

The area around Limekiln Street disappeared with the building of the new A2 link to Folkestone. Freight lorry parks and parking for the new Cruise Terminal sounded the final death-knoll for the area.