This description of a pub crawl round the Pier District in 1900 was found in the local library. Unfortunately there is no author's name or date on it, but he is presumably long departed if he was around at the turn of the last century. It gives an idea of the number of pubs crowded into such a small area of the town around the Admiralty Pier. All spelling and punctuation is as original.
I can remember the Pier Coffee Stall in the 1950s, when we used to go for a stroll along the pier or Shakespeare Beach and stop to watch the Golden Arrow pulling out of the Marine Station. In those days there was still quite a lot of housing in the area, and more than a few pubs, but now it is just commercial buildings and lorry parks associated with the docks. The only remaining dwellings can be seen on the centre right of the picture, through the bushes next to the white shed.
The picture above shows the Pier District today - The Lord Warden Hotel was the square white building by the pier. The long building with the tall chimney in the centre of the picture was the Harbour Station, in what is left of Elizabeth Street. Beach Street ran along the top of the picture from The Lord Warden Hotel to the right hand side. The Cinque Ports in Clarence Street (the only one of the pubs named below still in operation) can just be seen immediately above and to the left of the large white shed in the centre; the Golden Arrow was the small white building just above the corner of the same shed.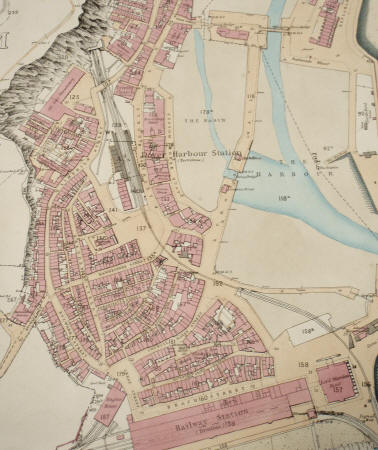 The map (left) shows the Pier District in the late 1800s, with the Lord Warden Hotel bottom right, next to the Dover Town Station. Beach Street can be seen alongside the station, with a veritable warren of little streets, squares and alleys surrounding the Inner Harbour, before the present-day docks were built in The Pent and The Basin.
Much of the area was demolished to make way for the railway line which connected the two rival companies' lines when they were merged, providing a link between the Harbour Station and the Folkestone line.
Originally, the line passed through a tunnel under Archcliffe Fort (the large, irregularly-shaped area bottom left on the map), but part of the Fort was demolished in the mid 1900s to reduce the sharpness of the curve.
(Military areas were always shown on maps as white spaces to prevent potential enemies from getting information)
---