The Golden Lion is on the corner of Priory Street and Priory Place. Originally two tenements: 11 Priory Street and 3 Priory Place.
Already well established on this corner in 1846. It came about in the first place when two tenements combined. One of those was 3 Priory Place which had been used as a stable and storehouse.
Another "Golden Lyon", as spelt, was part of the town in 1736. I would think the seaward end because I note that the owner received a bill from Dover Har­bour Board that year, claiming £42.9s.3d. Unfortunately no address is known but Richard Evans kept a house with this sign in 1811.
The Priory Street property opened at five a.m. from 1881. Reinstatement of war damage was permitted in 1949 at a cost of £135. A house of Fremlin.
The picture below shows the house as it appeared in 1983.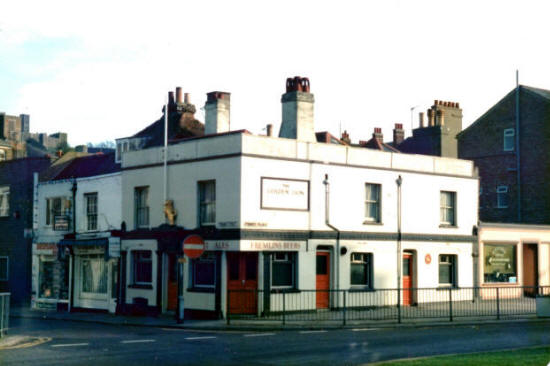 (Picture Courtesy of Eddie Chard)

---