The picture above was taken around 1970, before Townwall Street became part of the A2. On the left, directly under the castle, is the Britannia Inn, where we had our wedding reception in January 1971.

Behind it can be glimpsed the East Kent Road Car Company's bus garage in Russell Street. Above, just below the castle walls, is the once magnificent crescent of Victoria Park.

On the right, behind the trees, you can just pick out the terraces of the Dove Stage Coach Hotel (now demolished).

The picture below, taken from roughly the same point, shows the huge office block on the left hand side of the road, and the hotel next to it, that were erected in the early 1970s. The view of the castle and of Victoria Park is completely obscured - only the church of St Mary in Castro remains visible.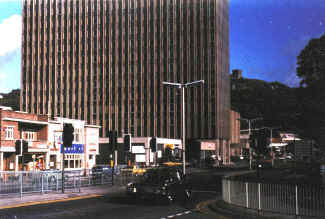 The road had now been linked to the York Street bypass by a large roundabout just to the left of the picture.
The whole area between Townwall Street and St James' Street, Bench Street and Woolcomber Street, is to be re-developed in the near future.
More recently, an underpass has been dug under the road to allow pedestrians to cross safely from Bench Street to New Bridge and the Sea Front.

It was during construction of this underpass that a Bronze-Age boat was discovered and excavated. It has since been preserved and placed on display in Dover Museum.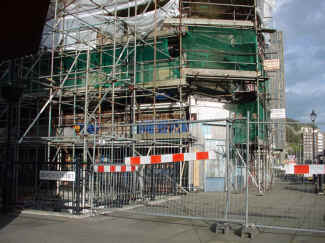 The owners of this former newsagent's shop on the corner of King Street were recently ordered by the council to demolish the building, which had become dangerous and was propped up with scaffolding. The picture below shows the site after demolition.