PICTURES
Louis Bleriot
Charles Rolls
Matthew Webb



This memorial marks the spot on North Fall Meadow, behind Dover Castle, where Louis Bleriot crash landed after his
successful flight across the Channel from the French coast
Over the last hundred years, people have attempted, with varying levels of success, to cross the Channel by many different means, from bathtubs to balloons, tunnels to bridges. The pictures on this page celebrate the efforts of three of the pioneers - Louis Bleriot, Charles Rolls and Matthew Webb.

The first successful flight across the English Channel from France to England ended in a crash landing on North Fall Meadow, behind a depression in the White Cliffs. At the end of his flight, French mechanic Louis Bleriot was unable to gain sufficient height in his tiny aeroplane to cross the cliffs at their highest point and reach level ground.



Plaque in centre of monument

Charles Rolls, first to fly the Channel both ways non-stop.
First to fly non-stop from England to France and back was Charles Rolls, partner in the Rolls Royce Motor Company.
The building behind the Rolls statue was originally the County Skating Rink, later converted to a sea-plane shed. When no longer required for sea-planes it was converted for military use, along with the drill-hall behind. The new A20 road from the Eastern Docks to London now passes through the site and the statue has been re-sited.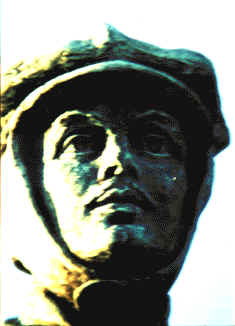 Close-up of the head of Charles Rolls statue

Matthew Webb, the first man to swim across the Channel
The first of many to swim the Channel was Matthew Webb.
This bust of Mr. Webb stood on the sea-front opposite the once elegant East Cliff mansions. It has been re-sited for road widening.
Swimming the Channel is now an annual event, with swimmers from all over the world competing to be the fastest. Relay teams as well as individual swimmers regularly attempt the 21-mile crossing. Some have even made the return trip.