The picture on the left shows my great aunt, Ethel Sharp, who worked at the cinema as a young woman.

Below is another picture, taken at the same time, showing a group of the staff. The pictures are not clear enough to read any of the other posters.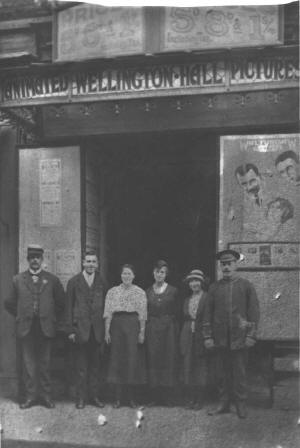 Originally opened around 1857, the Wellington Hall reopened as a cinema on Saturday 25th September 1911. Matinees were from 3 to 4.30 pm with evening performances from 6.30 to 10.45. A typical program might include as many as eight films, with titles such as "Bronco Bill's Redemption" and "Father Buys a Chimney Pot".
Prices for these early performances were 3d, 6d and 1/-, with children at 2d, 3d and 6d (6d is two and a half new pence; 1/- is 5p!).
After the First World War, the name was changed to the Wellington Cinema.
Music for the (silent) films was provided by Emma Beer on the piano before the cinema converted to "talkies" in 1929.
By 1930, cinemas were losing their popular appeal and, after being sold to new owners, the Wellington became the Pavilion. Later that year the name was changed again to the "Pavilion Cinema and Palais de Dance", when dancing was introduced to try and revive its fortunes. This did not succeed and was soon abandoned. By the end of the year, the cinema had closed its doors for ever.