The window with the arch over next to Price Carver was once the entrance to the Plaza Cinema. Above the cinema foyer were the Metropole Bars and Hotel.
Opened in 1929, the Plaza originally showed only silent films, as the installation of sound equipment would have meant higher admission prices. Originally a bus garage, the new cinema had a seating capacity of 1200.
In July 1941, 18 year old projectionist Leslie Hammond was arrested and tried at the Old Bailey for the axe murder of manager Richard Roberts, aged 50, from Gillingham. Sentenced to death, his sentence was commuted to life imprisonment the day before he was due to hang.
Acquired by the Essoldo group in 1952 it closed in 1960, to be opened again as the Rio Bingo Hall.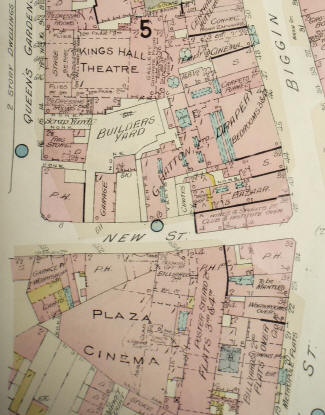 (Map courtesy of Dover Public Library)
The map, part of one of a series of Insurance Maps, first produced in 1905 and updated in the 1920s, shows the cinema entrance, with canopy over, between Nos. 19 and 20, Cannon Street.